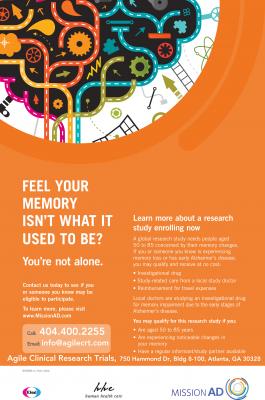 Memory Loss
FEEL YOUR MEMORY ISN'T WHAT IT USED TO BE?
Many people find their memory changes as hey get older. You might forget people's names or have words on the tip of your tongue that you can't quite remember. You might feel a little absentminded, such as misplacing your keys or glasses or forgetting why you walked into a room. For most people, these changes are a normal nd natural part of aging.
But in some cases, these changes are signs of something more serious — Alzheimer's disease.
Alzheimer's disease is a progressive brain disease (meaning that it gets worse over time). It affects the way a person thinks, reasons, and solves problems. Over time, Alzheimer's disease can
also affect behavior, personality, and language.
While there is no cure for Alzheimer's disease, doctors are researching investigational drugs to see if they may help people with Alzheimer's disease in the future.